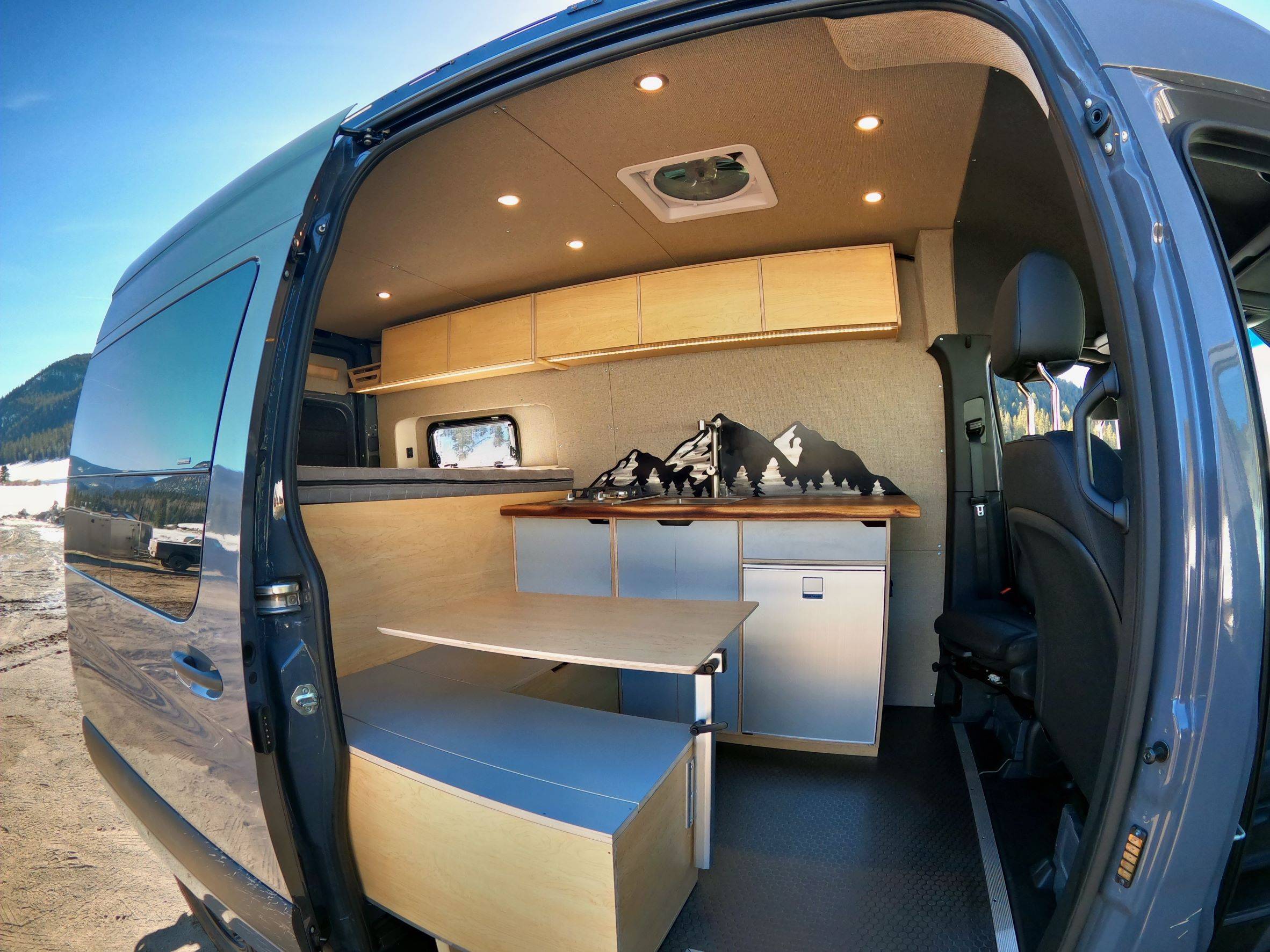 4x4 "ALL-SEASON" overlander. Everything you need and nothing you don't!
Whether you're ready for full-time van life or a weekend warrior, this van is ready for adventure. This rig has a functional layout for living, entertaining, and more storage than you could imagine for the 144" platform.
This is not a full Vansmith build. This build is built with The Vansmith walls and cabinets. All other componentry is by the builder. This is build is not covered by The Vansmith.
Sprinter 144- High Roof- 4WD- 6cyl Diesel
1,500 miles (mileage from driving back and forth to dealerships and to get suspension package added)
100,000 mile / 5 year extended warranty
Back-up camera
Parking package with 360 degree camera
MBUX intelligent Navigation
Swivel Seats- Passenger/Driver

Upgraded lighting package: high beam assist, LED high performance head lights, fog lamp with cornering light function, LED tail lights
Electric folding mirrors
Active brake assist
Active lane assist
Comfort seat package
Heated seats
Leather steering wheel w/ multifunction
12v power outlet driver's seat base
Heated exterior mirrors
Blind spot assist
Attention assist
Tray for wireless charging of smart phone
11" touchscreen
Low and high range 4x4
Acoustic package
Traffic sign assist
Van Compass front bumper w/ recessed winch mount
Van Compass floating light mount
Backwoods Adventure Mods roof rack
Backwoods Adventure Mods side ladder
Van Compass Stage 3 suspension / lift kit: Falcon 2.1 shocks and mounting system, 4x4 sprinter sumo rings, rear falcon 2.1 shocks, rear mini pack and upgraded leaf springs, and dust boots for all 4 shocks.
Warn VR evo 10-s winch
Rhino Lined Flare-space flares - allows you to sleep sideways (79 inches) and frees up more space inside
16in Black Rhino wheels x 5
BFG KO2 Tires (265/75r16) x 5
50" Pathfinder recessed light bar on roof rack
2 x 9" Pathfinder prowler driving lights
1/4' birch wrapped in insulated foam and fire retardant fabric
Durable Lonseal marine coin floor
Custom CNC'd baltic birch with laminate overlay for protection
Kitchen galley w/ plenty of storage
Acacia butcher block counter top
Custom stainless steel backsplash with powder coated aluminum mountain range
5 x upper cabinets w/ soft closing hinges w/ 1 x rear cubby
Driver's side storage fender/electrical storage box w/ 3 x doors to hide controls and access panel for electric.
Passenger's side fender storage box: hides 20 gallon water tank w/ plenty of storage.
Space saving flare trim rings
Custom Aluminum bed-frame
Custom tochta mattress
2 x bench seats w/ a massive amount of storage
Rear door storage cubbies
Reliance toilet
Renogy 200 AH Smart lithium "self heating" batteries - perfect for winter.
Renogy smart DC to DC (alternator) charger
Renogy smart solar charger
200 watts of Renogy Solar Panels
Renogy smart bluetooth module to access battery info via app
Renogy 2000 watt inverter
Blue sea main on/off switch
2 x touch (dimmable) reading lights in flare trim ring
2 x 110 recessed outlets w/ usb charging
4 x usb charger (not including front cabin chargers)
6 x recessed puck lights (on a dimmable touch switch)
Recessed rope light underneath cabinets (on a dimmable touch switch)
0 gallon water tank / 7 gallon grey water tank (with option to dump straight onto the ground)
Isotherm cruise elegance 85 fridge
Ramblewood 2 burner stovetop
Stainless steel deep sink / faucet
Rear shower w/ electric surflo pump and strainer
20 gallon fender box tank for quick disconnect shower
CR Laurence T-vent Window (sliding door)
Maxxair fan (both ways)
Rear arctic tern window
Espar d2s2 high altitude diesel heater with remote
3m thinsulate / Havelock wool insulation
Adventure Van Co insulated magnetic curtains for stealth sleeping and climate control