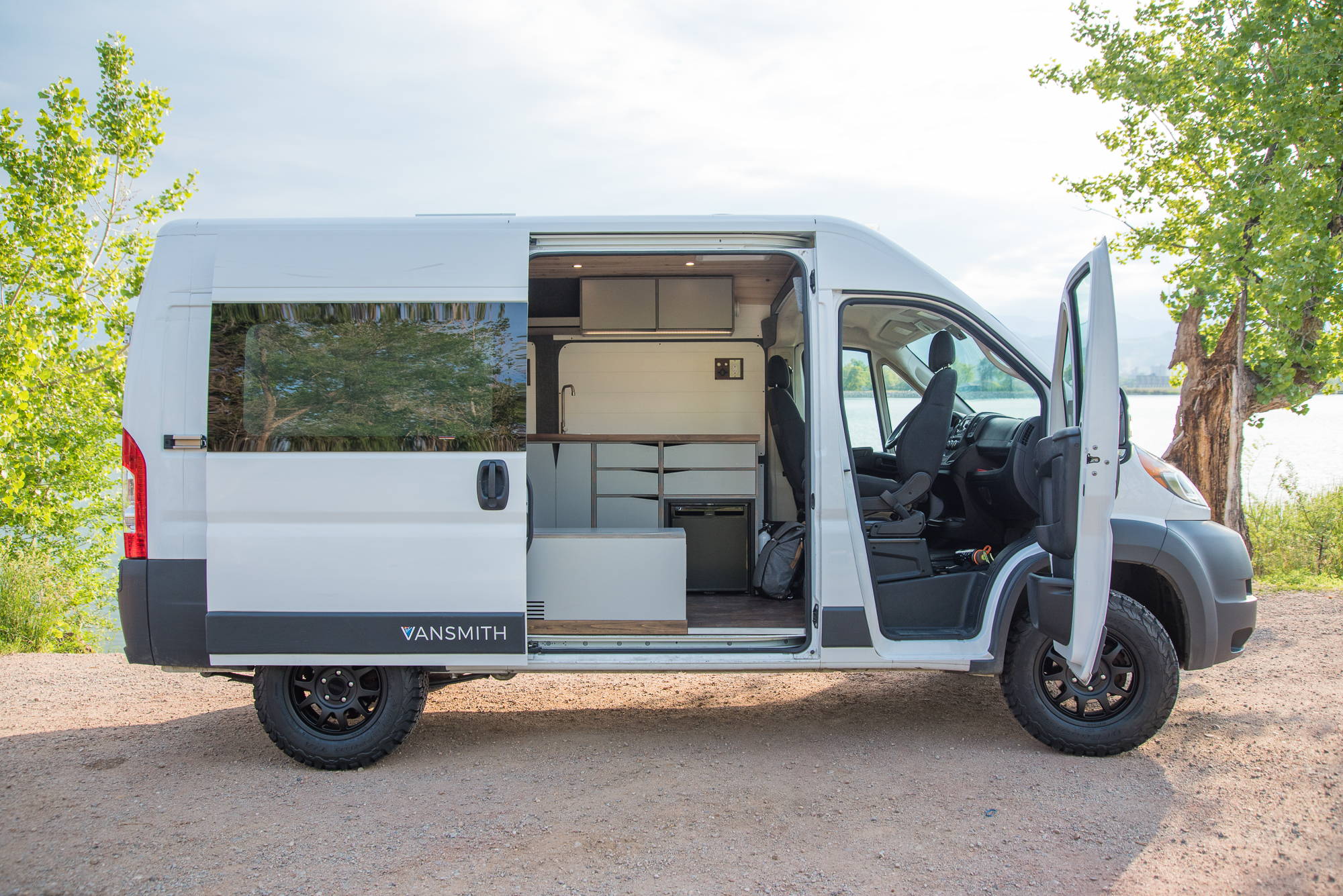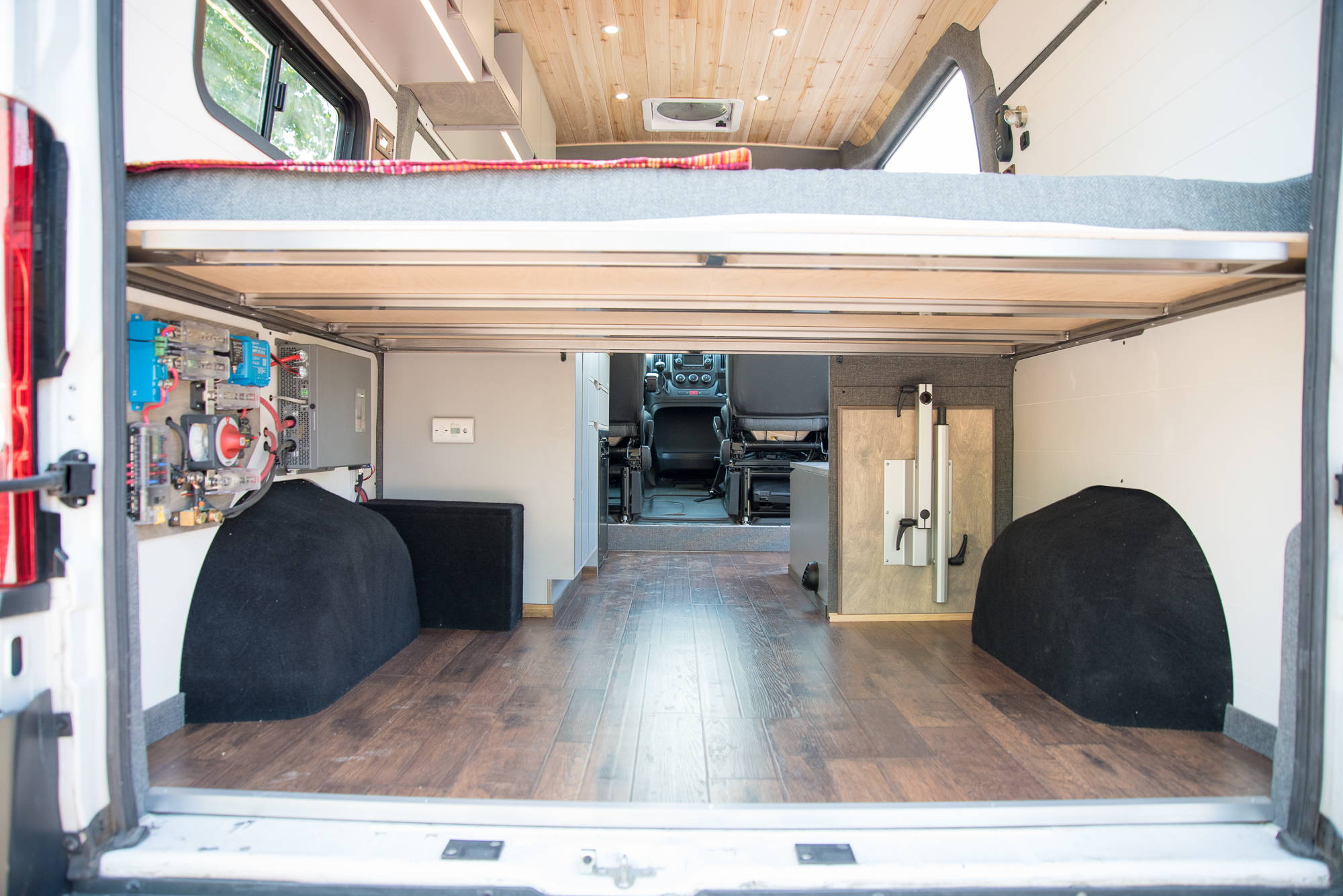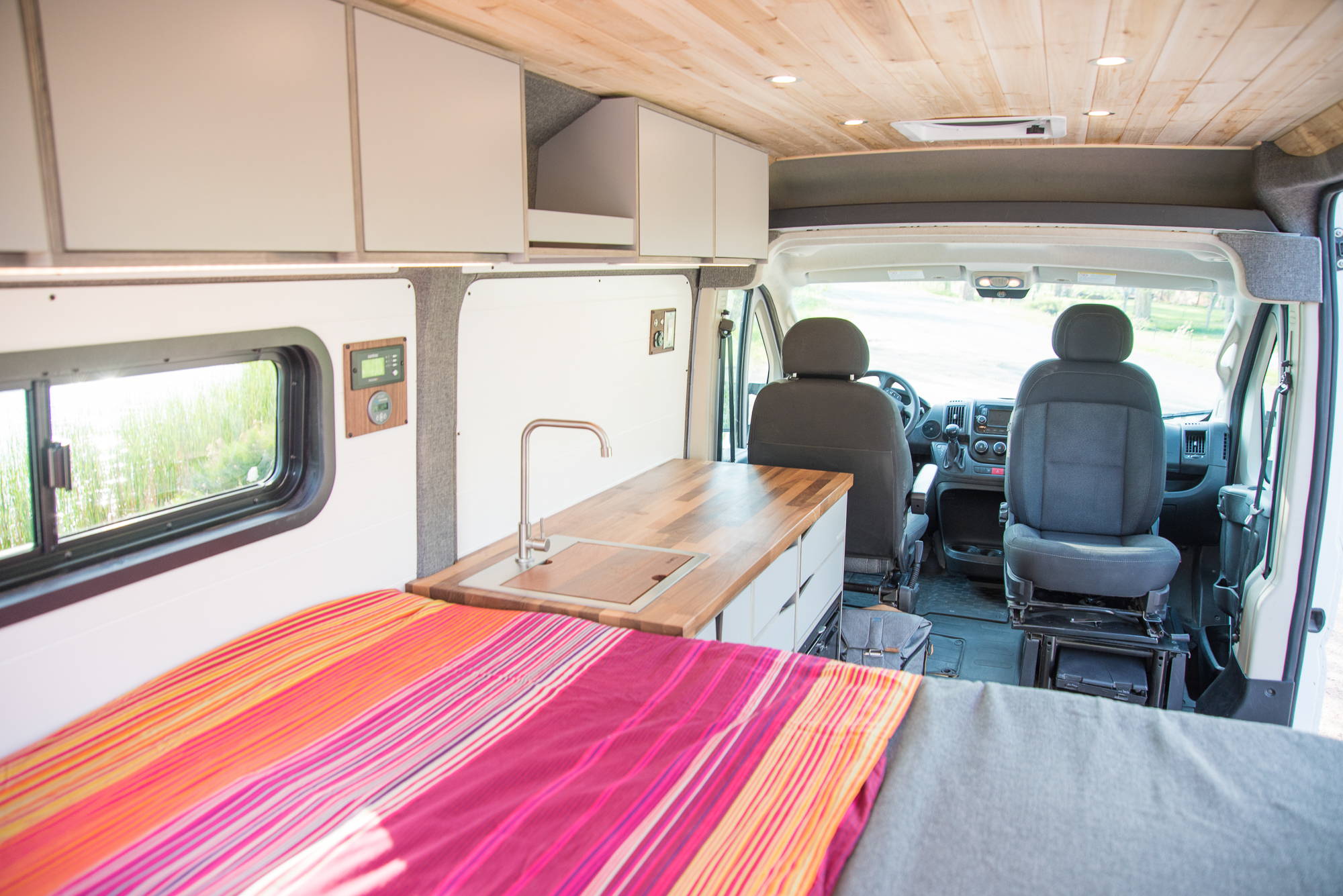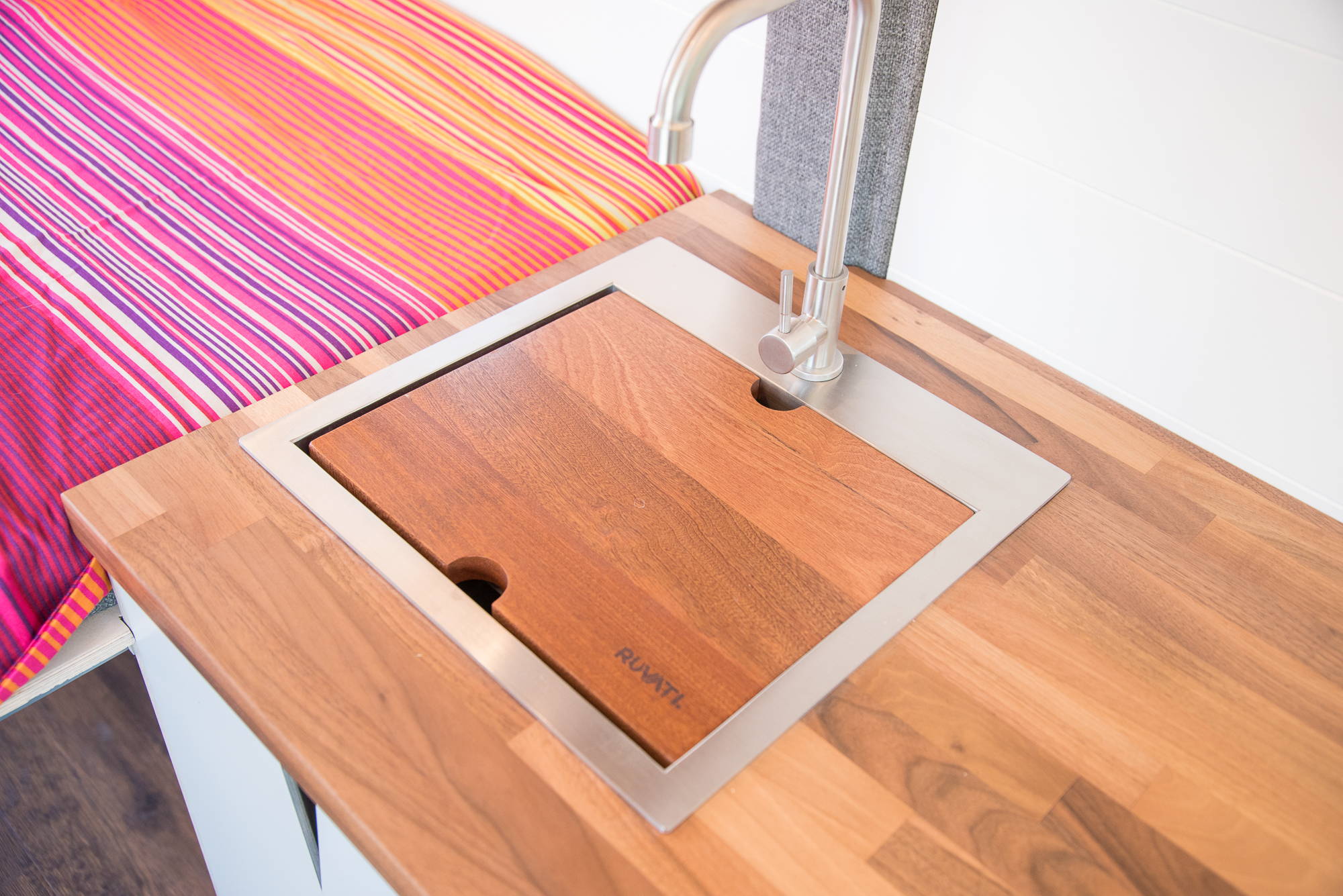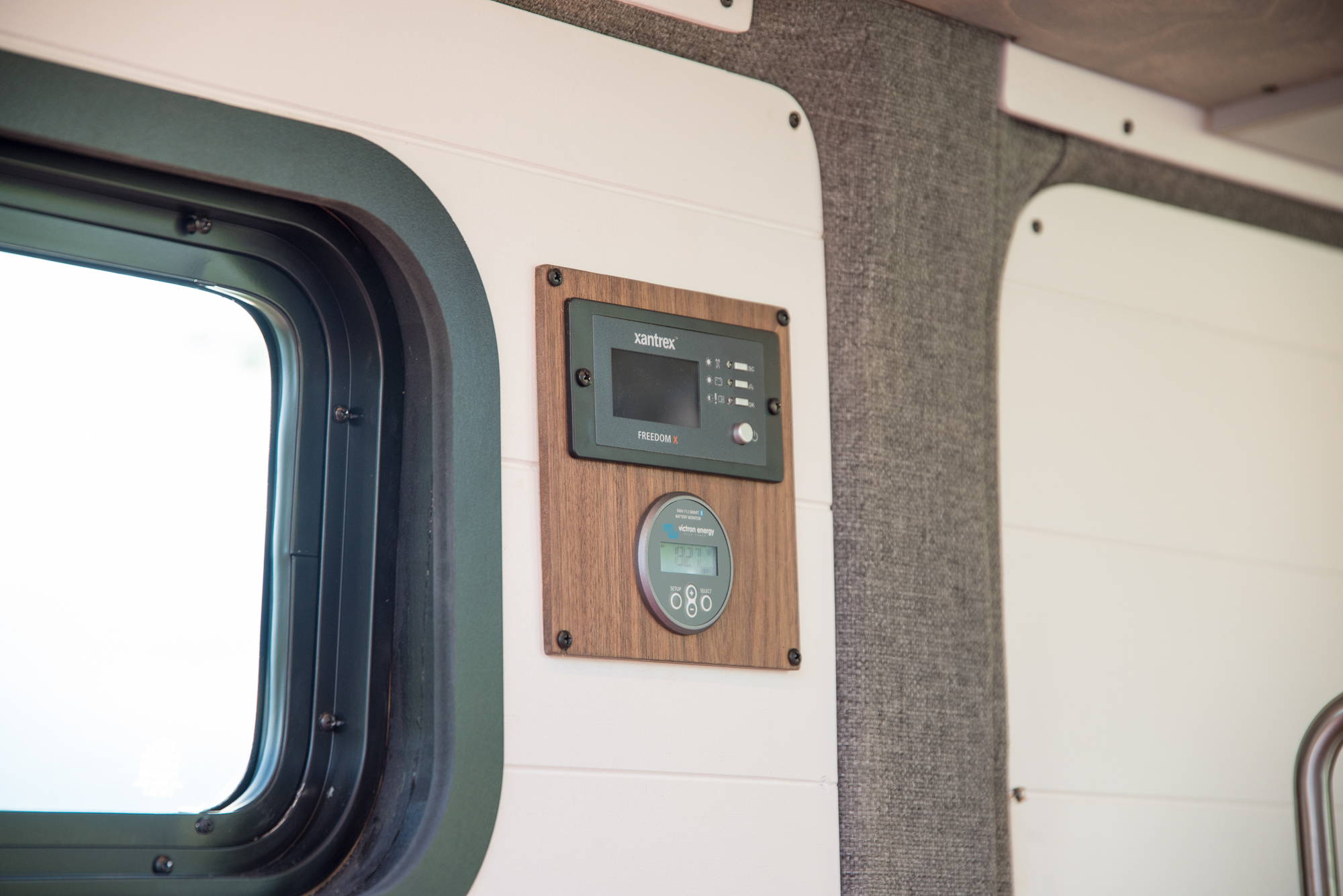 This awesome 2018 Promaster Rack N Roll was one of the first premium Rack N Rolls we built at The Vansmith. We put tons of love into this van, including almost $10,000 in upgrades. All of the upgrades are listed below! This van is located in San Francisco, California, at this time.
OVERVIEW
Wood paneled ceiling and Byrne woven fabric walls
Full-size bed with three inch custom mattress and memory foam topper
Full set of cabinets with custom cutouts for the handles
Adjustable lagun table with table storage
Premium drawer and cabinet hardware with under cabinet lighting
Rock solid butcher block countertop
Premium vinyl flooring
Custom insulated window covers throughout
Ruvati sink with 10 gallons of fresh water storage and 3 GPM pump
Portable induction cooktop
Dimmable LED lighting throughout
reading lights
110 and 12v power outlets
2000STC Webasto Fuel Heater
Maxxair Rooftop Fan with Remote
200Ah Victron Smart Lithium Battery
1000W Victron Inverter
100W Solar panel
Dometic refrigerator with freezer compartment
Exterior Ship to Shore Plug
3" Van Compass suspension upgrade
Black Rhino wheels with beefy all terrain tires
Thule awning
VAN FEATURES
Year/Make/Model/Wheel Base: 2018 RAM Promaster 136" 2WD with 50K miles
Color: White
Interior Color: Grey
Warranty: N/A
Upgrade Packages: Too many to list
Anything else we'll need to know? This van has driven all over the western US and has stayed in some of the coolest locations in the world. Along with all of that adventure, Theodosia has picked up a few minor exterior scars (each with its own unique story). But, inside she's spotless and beautiful. No, really.
CONVERSION FEATURES
Exterior Mods:
3" Van Compass suspension upgrade
Black Rhino wheels with beefy all terrain tires
Thule awning
INTERIOR BUILD
wood paneled ceiling and Byrne woven fabric walls
full-size bed with three inch custom mattress and memory foam topper
full set of cabinets with custom cutouts for the handles
adjustable lagun table with table storage
premium drawer and cabinet hardware with under cabinet lighting
a rock solid butcher block countertop
premium vinyl flooring
custom insulated window covers throughout
Ruvati sink with 10 gallons of fresh water storage and 3 GPM pump
dimmable LED lighting throughout
reading lights
110 and 12v power outlets
2000STC Webasto Fuel Heater
Maxxair Rooftop Fan with Remote
200Ah Victron Smart Lithium Battery
1000W Victron Inverter
100W Solar panel
Dometic refrigerator with freezer compartment
Electrical/Water System:
200Ah Victron Smart Lithium Battery
1000W Victron Inverter
100W Solar panel
Ruvati sink with 10 gallons of fresh water storage and 3 GPM pump
choosing a selection results in a full page refresh